Race report: Stanford Treeathlon
As a coach, I attempt to push my athletes beyond their perceived limits of their abilities. At the suggestion of a team parent, I tried to round up some swimmers to do the Stanford Treeathlon, a sprint triathlon that is held about 45 minutes away. In terms of a triathlon, it is almost as easy as they come: a ~500 meter swim through a marina, a pancake flat 20 km ride, and a flat 5km run. I managed to get one girl, and then a relay team of boys, plus three parents to do the race.
For them, the race was a complete success. The relay team placed well in their category, the individual girl was the second high schooler to finish, and the two parents had a blast and vowed to do more. As for me? The race was solid. I finished third for the age groupers, fourth including collegiate athletes. Their performance will get their own post.
Here is my race report:
I got down there early, and tried to pick up my packet. Key word-try. The race was set up and run by the Stanford Triathlon team, and of course there were hiccups. They got most of it sorted out quickly, but they didn't have pins for the bib numbers, which was an issue for the swimmers and parents, who didn't own a race belt, and had no way of attaching the bib to their clothes. We simply made a point of marking their legs and arms more clearly with their race numbers.
After helping them get their transition area set up and going through little nuances with them, I went out for a quick spin. The week before, a piece of glass had shredded the front wheel on my bike (the streets of Oakland go hard), and I had just put on new tires. I had been riding Michelin Pro 3, which I had liked a lot, but at the suggestion of my friend Greg, I tried out the Continental GP4000s. They looked pretty slick, and felt pretty good on the ride out.
Another reason why I wanted to ride the course was to get comfortable on the turns. The course is a lollipop shape, where you have an out and back, and then looped around a business park. The 180 on the out and back hadn't been swept so there was gravel and dirt at the turn, and one of the turns in the business park was cobble, so I would not be flying through the turns-mental notes made. I made it back to transition, and then headed down to the water for the race to start.
What the course looks like from above-just ride the perimeter of the lollipop. Also, hands down, the best type of lollipop, and the best kind of tootsie roll pop.
The race went through a marina. The athletes were lined up on a dock, and then allowed to jump in for the race to start. While stretching on the dock waiting for permission to jump in, I heard a voice behind me-it was the speedo man (Jacob) from
HITS Napa
-the guy who had trounced me on the run. We exchanged pleasantries, but in my mind, I was off my game. I hadn't been feeling 100% from the rough week of training a week ago, and I am going through lifeguard training again with East Bay Regional Park District, so the day before I had to do around 200 pushups, so I knew that I would be stressed on the race. Having him in the race was just another thing for me to think about.
I hopped in the water and tried to stretch out. In the water, I was recognized by another competitor as being a swimmer because I was wearing swedes.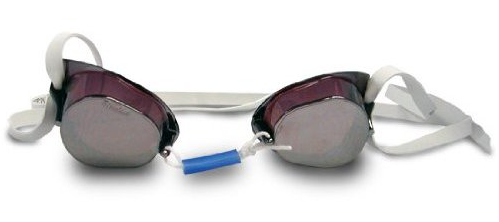 The universal sign of a swimmer-cheap goggles. They used to cost $1.25, now they are an outrageous $3.95. All for a strap, plastic, and string.
I laughed and we talked for a bit about how we were going to get passed on the bike and run. I knew it to be true, and thought about altering my game plan with Jacob here. I had wanted to try to throw down as hard as I can on the swim and bike, and hold on the run, but with Jacob here, I changed it: hold the swim constant, and then hammer the bike and run and pray that it would be enough. (Changing game plans is generally a bad idea, but hey… I don't actually have an excuse for doing this).
With the start of the swim, I took off aggressively for the first 50 yards to see if anyone would go with me. Two others were even with me. I slipped right on the heels of one, and eased up. One guy gapped us, but it was just about 10 seconds. My arms felt heavy, and my stroke felt sloppy. Hopefully next weekend, the other life guards will learn their stuff and we won't have to do so many pushups. I also need to do more speed work in my swims, but also probably fewer pushups would have helped.
In the last 100 yards, I moved past the guy I had been drafting off of, and slid over to get on the ladder to get out. Getting out on a dock is harder than you think when your arms hurt. I lost a couple seconds on the leader, but put some distance on the second place guy, and started the ~.25 mile run into transition. I stripped my wetsuit down to my….WTF SPEEDO MAN JUST PASSED ME.
Jacob passed me on the run into transition. Dude can run like a gazelle, and also swim pretty solidly. I picked up my turnover to try and limit the damage, but it was mentally difficult to have him pass me this early.
He left transition with roughly a 30 second lead on me. I left transition with another guy, and we had to weave in and out of the collegiate competitors who were already on the course, having started 20 minutes in front of us. I could see Jacob clearly, and started making the effort to pull him back. Just past the first turn around, I had caught him with the guy who left transition with me. My heart rate was high, my arms were heavy, and I wasn't sure if I was going to be able to keep up this pace for the rest of the race.
On the way back on lap 1, I sat up a little, trying to control my heart rate. The guy who I left t1 with slid past me. I let him go, and tried to keep track of how far in front he got. The rest of the ride became about controlling my heart rate, maintaining pace, and doing what I could to put distance on Jacob.
With some controlled breathing, the heart rate came down, and I started to focus on racing. The course was becoming more crowded, and I had to yell out to some of the athletes to stay on the right. They were all over the road, and taking the 180 slowly. Usually acceptable, but not when I am trying to create a gap and catch someone. I rolled the rest of the way through the course, averaging 24.5mph. Not too shabby given the three 180s I had to go through. A pace that I would like to hold for a full Olympic.
I knew that I hadn't put any distance on Jacob, because at the last turn around, he was only ~15 seconds behind me, and the first place guy was about 45 seconds in front of me. The run was going to be the decider. Jacob and I hit transition at roughly the same time, and he left about 10 seconds in front of me. And away he went.
I knew that I didn't have the legs to go with him, and my focus went to trying to pull back the first place guy. I had no idea what his advantage was on me, but I knew that I could only try and hope that I could pull him back. About a minute for me from the turnaround, I saw Jacob, and then the now second place guy running back. With a two minute gap on me and only half a 5k left, I realized that it was unlikely that I was going to catch him.
I powered as best I could through the last half. I had made a friend on the aid station on the way out by asking the name of the woman who handed me water, so I made it a point to give her a shout on the way back. She made a point of throwing water on me while she handed me a cup. If you wanted a moment that summed up my experience with women, that would be it.
I finished the race in 3rd among the age group athletes, and with the collegiate athletes included, I placed 4th. I had no chance of catching the Jacob and the other guy. I ended up averaging ~24.5 mph on the bike, and ran a 18:28 5k, which is just under 6 minute pace. I found out that the second place finisher was a former pro triathlete. Such is life.
There are a lot of takeaways from this race. Despite a rough week, and no rest, I went fast. My transitions were cleaner than they have been. I think that I need to do more track workouts, and maybe start lifting again. I know I can be faster on the bike and run. My swim can be cleaner. There is always room to improve.