Reminder-Father's day is June 16-a little less than two weeks away. I couldn't find a commercial like the one I posted about my mom, but I can say that I would be a very different person if he had not been there. He never let me do anything less than my best. One of the things he frequently told me was, "if you are not going to do it right, don't do it at all". That resulted at times in me mowing the lawn twice, cleaning my room (which is rarely was, I know...), re-writing of papers in high school and middle school, until the job was done to the ability that my dad knew that I was capable of. Nothing else should be acceptable. Thank you Dad.
There are many things that you should and shouldn't do during a triathlon. This post is primarily about things you shouldn't do.
There are many more volumes to this. The point is to learn from them.
This past weekend, I raced at the third annual
Bass Lake Triathlon
. Why? Because my coach asked me what races I wanted to do, so I said that I would do this one. No other reason- thing number 1 I did wrong- always have a legitimate reason to race. Even if the reason is 'because it's there'.
The race was on Saturday morning, and my intention was to leave Friday immediately after school and drive up to get to packet pickup before it closed at 8pm. Bass lake is about 3.5 hours from where I live, so I figured if I left by 3:30, with a quick stop for dinner, I could make it pretty easily. I didn't end up leaving until after 4 because I didn't get the car packed before work, and there was significant traffic on the way up, and I missed packet pick up by 15 minutes. Thing number 2 not to do- don't miss packet pickup. There were still a few volunteers at the race site, and they told me to be at the race site at 5:45 am when transition opened to get my packet.
This is what packet pick up is supposed to be like. You get a baggy full of useless stuff, and your race numbers. Imagine this, but with no people.
Now it was 8:15 at night, with no packet, I drove to my campsite. The Thursday before the race, I had reserved a site at a campground on the other side of the lake from the race. Pitch black, I found the campground, and then found out that someone had taken my spot because it was so late at night they had assumed that I wasn't going to show up. I asked if they would be willing to share the spot as I would have to be out by 5:30am to get to the race, and they agreed. Thing number 3 to do-get to your lodging early so the hotel doesn't give your spot away, or someone doesn't steal your campsite.
Fortunately, they let me pitch my tent next to theirs. If they hadn't, it meant a night of sleeping in the car...
The next morning, I woke up around 5am, packed up my tent and gear, and drove over to be at the race at 5:45 to get my packet, so that I could get my spot in transition set up and warmed up for the race. Thing number 4-there is never a need to show up that early to a race. Rarely is the race ready to go when transition opens. They didn't start giving out the packets until 6:30. I sat around for 45 minutes waiting to get my number so I could get my spot in transition set up.
With my transition spot set up, I went out for a quick warm-up and then headed down to the water with my wetsuit. Now, some background about the location and course: Bass lake is a lake about 15 miles from Yosemite, and is at about 3000 feet of elevation. The course had some major climbs on the ride, and was rolling hills on the run. I had glanced at the bike map before the race, but I didn't really have any idea about the ride or run was like until I was on the course doing it- thing number 5 I did wrong. If you have the time and opportunity to do so, do the course beforehand. If not, at least drive the course.
This was the course map. The long descent looked lovely, and the two climbs were long. All information that I promptly forgot.
Due to my ignorance, I asked around at the beach if anyone knew what the course was like. Fortunately for me, a competitor let me know that the first 7 miles were flat and downhill, the next 7 were hard hills, and then the rest was rolling. That information proved to be invaluable.
When the swim started, the race finally started to go smoothly. I found an easy rhythm on the swim, and I settled down. The altitude was punishing, and I didn't try to make any moves, and I fell in behind another competitor to have him pull me through the swim. I finished the swim about 5 seconds the lead swimmer, and I ran up to transition.
By the time I hit t1 (transition 1-from swim to bike), I had passed the lead swimmer and I was in the lead. I struggled to get the wetsuit off my upper body on the run up, but once in t1, I wriggled out and ran out with my bike. I normally keep the bike in the big ring in front, and a medium ring in the back so that I can give my legs a chance to warm up before I try to hammer. On this course, straight out of t1, the course goes up hill. The volunteers were yelling at me to gear down. Mistake number 6-not having my bike ready to attack the first hill. I hit the hill and hammered trying to put distance between me and the second place guy. I struggled up the hill. It was significantly steeper than I could handle in the big ring, and so I dropped down to the smaller ring and pushed on.
As described, the first 7 miles were flat or downhill. I hit 45 mph on the main descent in the aero position, and continued to turn over the pedals to keep the speed up. With a hilly course, the speed early could drive the gap up and take hope away from anyone behind me. Mistake number 7-never attack on the downhills, particularly on a course that you are unfamiliar with. There were a few crashes from other competitors on the downhill. Fortunately, I had switched to a different tire a few weeks ago to the Continental GP 4000s, and they tore through the turns and downhill.
Around mile 7, there is a right turn that I completely missed. The volunteers were not ready for the athletes to come through, and the course was marked with what looked to be street signs, so I missed the signal. There were no markings on the road, and no warning about the turn. I ended up having to slow and do a quick turn around-it probably cost me ~30 seconds. Mistake number 8-KNOW THE COURSE and don't rely upon volunteers.
Most of the course volunteers were high schoolers in bright yellow shirts that were updating their instagrams or something and not directing traffic.
My usual strategy on nutrition for olympic length triathlons is to have two gels on the bike, and depending on how hot the weather is, go through one bottle of half gatorade and half water. I can't stand the taste of straight gatorade-too strong and salty for me, so I just mix it before hand. If it is hot, two bottles. The gels usually come around mile 12 and then mile 20, so that I have something in me for the run. Due to the race being so far from home, and being rushed packing, I had forgotten my electrical tape, which is what I use to attach my gels to the bike. In transition I found someone with masking tape, so I used that.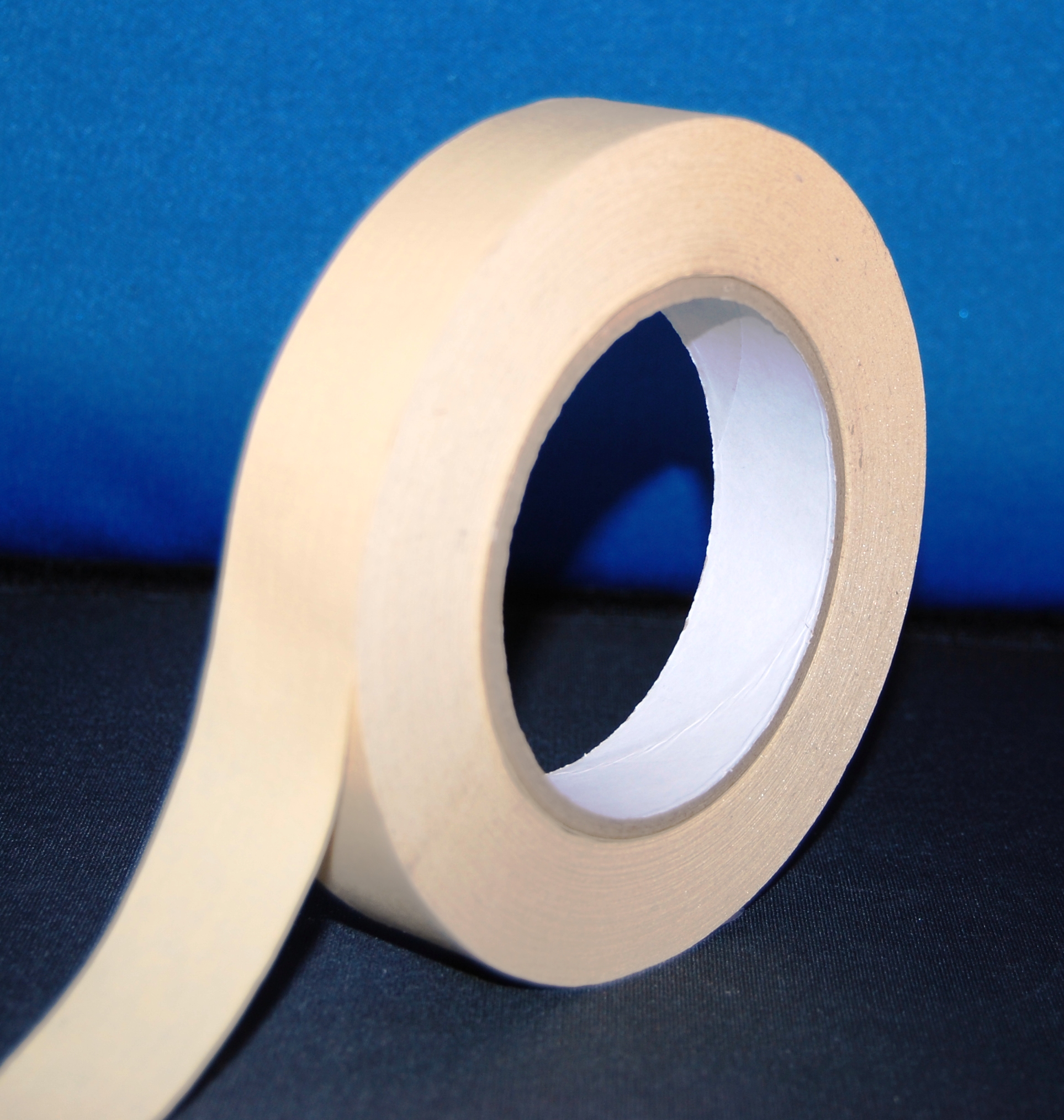 Good for painting. Not for applying gels to bikes.
Well, after going up hill for a few miles, I thought I would get a gel in me. I stood up on the bike to pump to get to a short flat section I saw... and my knee bumped one of my gels off the bike. Masking tape wasn't sticky enough to hold on to the gel, and the gel fell to the ground. I left it, as I had one more left. Mistake number 9-don't use something you are unfamiliar with on race day, and don't forget electrical tape.
In case you wondered what it looked like. I usually stick with Gu Chocolate Outrage. It is delicious.
As the hills and miles ticked off, I took the occasional stand up and take a quick peek behind to see if there was anyone creeping up on me. And then my knee knocked off my last gel. Mistake number 10-do your own race. This is advice that I give to my swimmers all the time-don't look around. Focus on your own race.
So now I had about 8 miles left on the ride, no gels, and a lead of uncertain size. But the hills were mostly done, and I just had to push on to the run.
In t2 (bike to run), I ran to my spot, slipped on my running shoes, grabbed my race belt, and headed out to the run. Mistake number 11-always have an extra gel in your transition spot. Just in case you need it.
I had no idea what I was getting myself into on the run. All I knew was that it was a 10k, and I think it was going to be two laps, but I really wasn't sure. If you take a look at the course map, you will see something like this:
Out and back and somewhere you make a loop through a community or something maybe a turnaround and then what?
Which, in my eyes, means absolutely nothing. The lack of an elevation guide also hurt. I went out with nothing in me, legs burning, and knowing I had a lead. Mistake number 12-understand the course.
I never watched this show, but I think my run could have been put into episode form.
I was running through the sprint competitors that were still on the course, and they started to cheer me on. I hit the first turnaround about 8 minutes into the run, and was very confused. I asked-is this the turnaround for the olympic course? Yes, I was told, and off I went again, hoping that I was still on course. And then I was diverted through a neighborhood, and then told to turnaround again, so around I went. And then told to make a turn back towards the finish, and that I was going to do it again. On the way back in, I saw what I thought was the second place guy. I had no idea how far I had gone, or how big of a lead I had, but the second place guy looked like he was moving pretty solidly.
This was turning into a nightmare. I was struggling on the run, I had no fuel in me, I had no idea how much more I had, and my lead on the second place guy looked to be in danger. All I knew was that I eventually had to turn around and do the course one more time.
I hit the 5k turnaround and had done it in about 20 minutes. Slower than what I had done at my last race, and given the pain I was in, I started to worry that I would collapse. I took a look at my watch and tried to figure out how big of a lead I had. I was truly in the most discomfort I had ever been in during a race. When the second place guy went by, it had been more than 2 minutes since I had left the turnaround. That meant a little more than 4 minute lead, which meant... I had no idea how fast I would have to go to hold on, but if I went the same pace as before, he would have to hold a little faster than 5 minute miles to beat me. Not impossible, but unlikely.
That calculation relied upon me holding pace. I gave high fives and words of encouragement to every person I saw. When I hurt, the only thing that I can do is to try to take the pain away by saying things to others. It probably is annoying to them, so I am sorry. My words of encouragement eventually turned into a self command; I repeated "stay positive" and "anything you got left" to the other runners as I struggled.
I don't remember much of the last 5k. All I know is that my lead didn't change much, and that more than once, I thought about slowing to a walk. I finished the race with a 2:14:21, which is significantly slower than my olympic personal record, and way off of my goal time for that distance. What I do know is that the race has only be around for three years, and that time would have won the past years as well. I ended up holding on to my lead over second place, winning by more than five minutes.
After the race, I downed the pancake breakfast and the free beer they gave out, got my picture in the local newspaper, and then found a campground to hang out until the awards ceremony. I ended up winning a giant glass bass plate, which is pretty sweet.
Pretty sweet if you ask me.
So learn from my mistakes. I will hopefully try to.